CAN I GET MY BOAT WRAPPED?
Yes you can have your boat wrapped. Whether this is a small modest sloop, a fast speedboat or a 100-metre yacht. Whether it's wrapping the cabin, the outside of the boat or just a few details, anything is possible. From a solid colour, whether matt or glossy, to wood, stone or fabric prints. We transform your boat into something special.
WHY SHOULD I HAVE MY BOAT WRAPPED?
By wrapping your boat, you can very easily give it a completely different look. No need to paint or spray it, you can easily have it covered with foil. You can choose from more than 500 colours, prints and designs, and there is always something you like. 
Another advantage is that the wrap film on the boat is also easy to remove again. Do you want to return to original condition, or do you want another colour? With wrapping, it is possible! Just take off the old film and it will be original again!
The benefits of boat wrapping:
* The film is water-resistant
* The wrap film is not permanent
* Change the look quickly and easily
* The boat can be wrapped on site
* 500+ colours, print and design available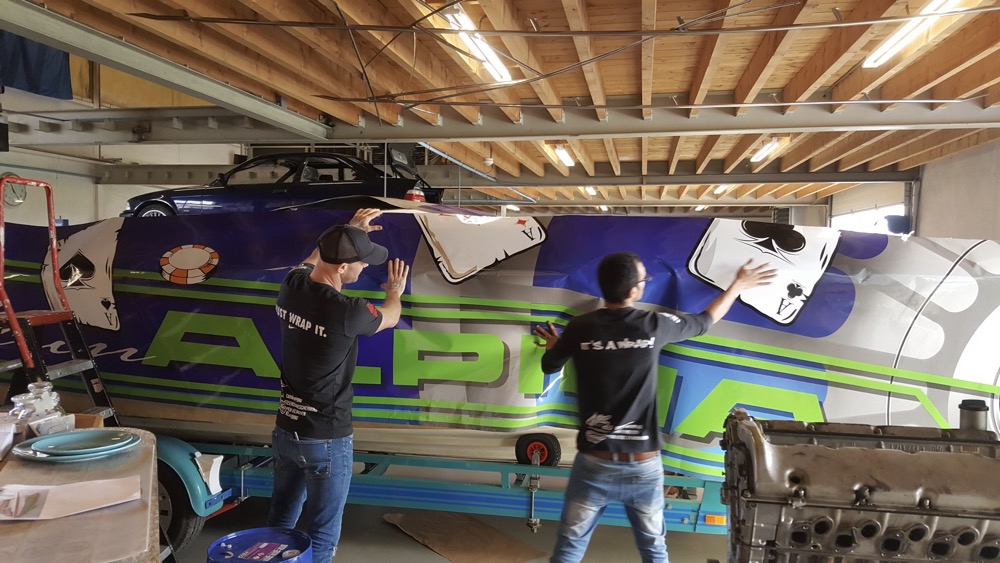 WHAT DOES A BOAT WRAP COST?
That's the same as "what does it cost a car?" It is so impossible to say 1 2 3 what it costs to wrap a boat, it depends entirely on what you want done. Just part of the interior, an instrument panel or maybe the whole exterior of the boat. The price also depends on where it is located and what kind of film you choose. 
HOW LONG DOES A BOAT WRAP TAKE?
Wrapping a boat, for example, can often be done in 1 or 2 days. This mainly depends on what you want to have wrapped, but also on whether there are any grilles, handles or other parts of the boat that may need to be dismantled. You can send us a message with photos via whatsapp and we will give you all the information you need.
HOW DOES WRAPPING A BOAT WORK?
There are 5 steps to give your boat a new look.
1. Determine colour
The colour possibilities are endless. Just a solid colour or perhaps a cool design. Feel free to visit us to discuss the possibilities and see the colours.
2. Dismantle parts if necessary
Sometimes there are parts on the boat that need to be dismantled to get the best result. We will dismantle these and, of course, expertly reassemble them after we have applied the wrap film.
3. Cleaning
After dismantling, we can start cleaning and degreasing the boat. This is how we ensure that the foil sticks properly. Especially for boats that are several years old, this is a very important step.
4. Wrapping
Now the real work starts, wrapping the boat. We will carefully wrap and finish all the agreed parts, the new look is almost a reality!
5. Deliver
The time has come, the boat is ready for the new season! Together, we'll check out the result and then you can get into the boat nicely... 😉