CAN I HAVE MY PIANO WRAPPED?
Yes, that is certainly possible. When you think of piano wrapping or kitchen wrapping, you don't think of beautiful cars in a matte foil. But foil can be used for many purposes, from wrapping cars to wrapping window frames, furniture and also pianos. 
WHY SHOULD I HAVE MY PIANO WRAPPED?
Wrapping your piano is a reasonably simple way of giving your piano a different colour. Whether this is standard black or white or whether you choose from one of the other 500 available colours. Another advantage of wrapping is that it is not permanent, unlike painting or spraying. You don't have to disassemble the piano or take it to a painter; we can simply wrap it at your location. 
Advantages of wrapping summed up:
* A complete metamorphosis, fast and easy
* We can wrap the piano on location
* The wrap is not permanent
* 500+ colours available
WHAT DOES PIANO WRAPPING COST?
The price of piano wrapping is between 500,- and 2000,- The price of piano wrapping depends on the complexity of the piano model. On the pictures of the shiny white piano you can see that it has a lot of decorative parts. This is a lot more work and takes more time. There are also pianos with a lot of flat parts, so this is easily and quickly done. Wrapping the glossy white piano cost 1250,-. 
HOW LONG DOES PIANO WRAPPING TAKE?
A piano can usually be wrapped in 1 or 2 days. Depending on the complexity and size of the piano.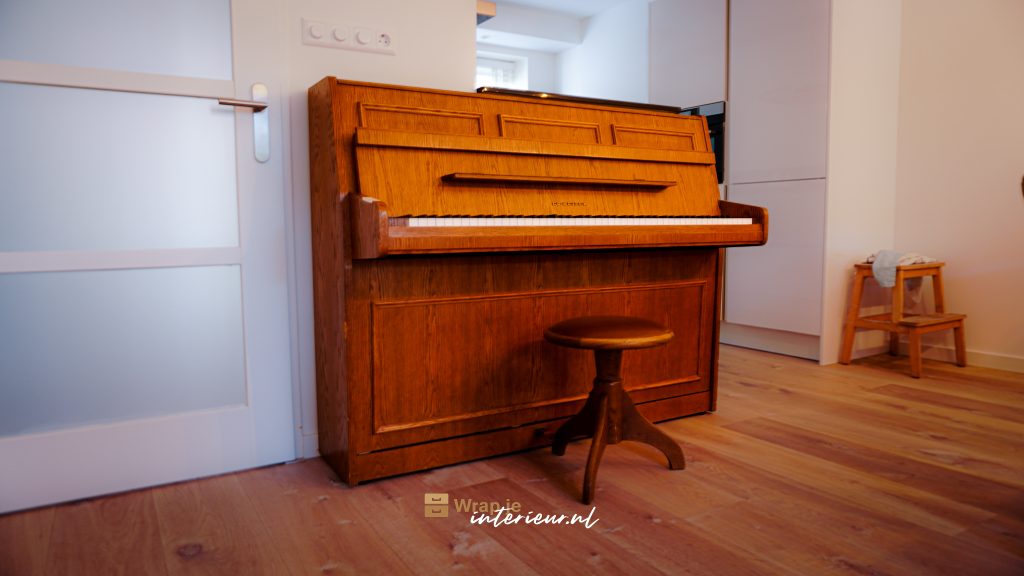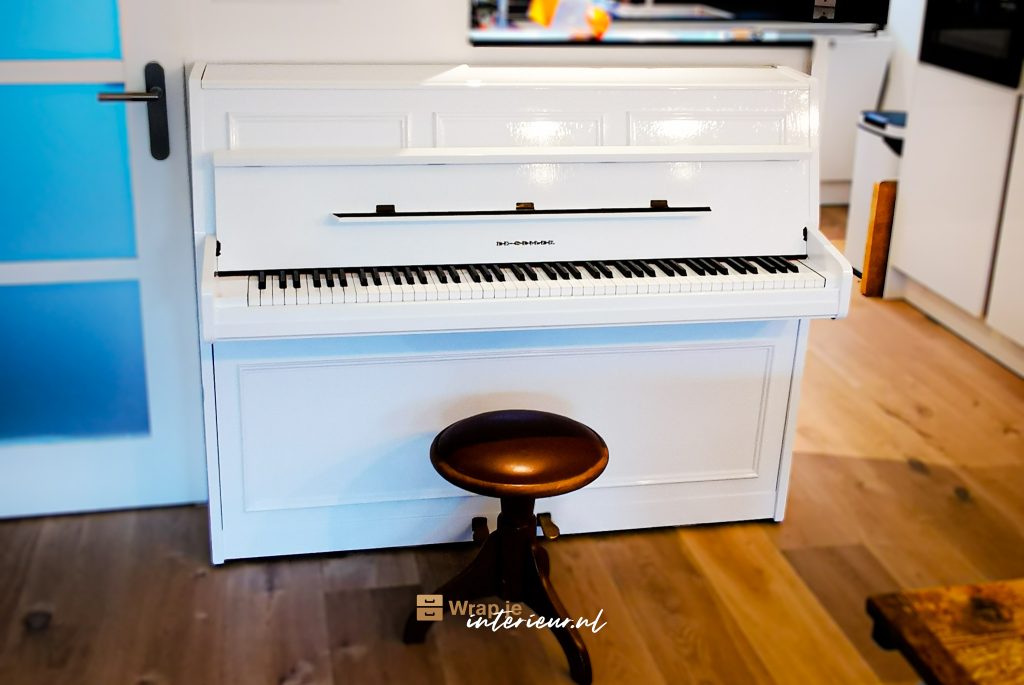 HOW DOES THE WRAPPING OF MY PIANO WORK?
There are 5 steps to giving your piano a perfect metamorphosis.
1. Determine colour
First of all, you need to decide what colour you want to have your piano wrapped. You can come to us or we can come to you to look at the colour samples and choose the perfect colour.
2. Dismantle parts if necessary
When the colour has been chosen, we come to your premises to wrap the piano. Here we disassemble the parts that are needed to get the best result. This can be the lid or perhaps an upper part.
3. Cleaning
After dismantling, we can start cleaning and degreasing the piano. This ensures that the foil will stick properly. Since pianos pick up a lot of dust, this is a very important step.
4. Wrapping
Now the real work begins, the wrapping of the piano. We will wrap all visible parts and the metamorphosis will really take shape.
5. Deliver
The piano is wrapped and ready! Together we will look at the result and it will be an asset to your interior. You can always play a piece for us now of course 🙂
WHAT DOES THE WRAPPING LOOK LIKE? NOW THERE!
THE BEFORE AND AFTER SLIDER