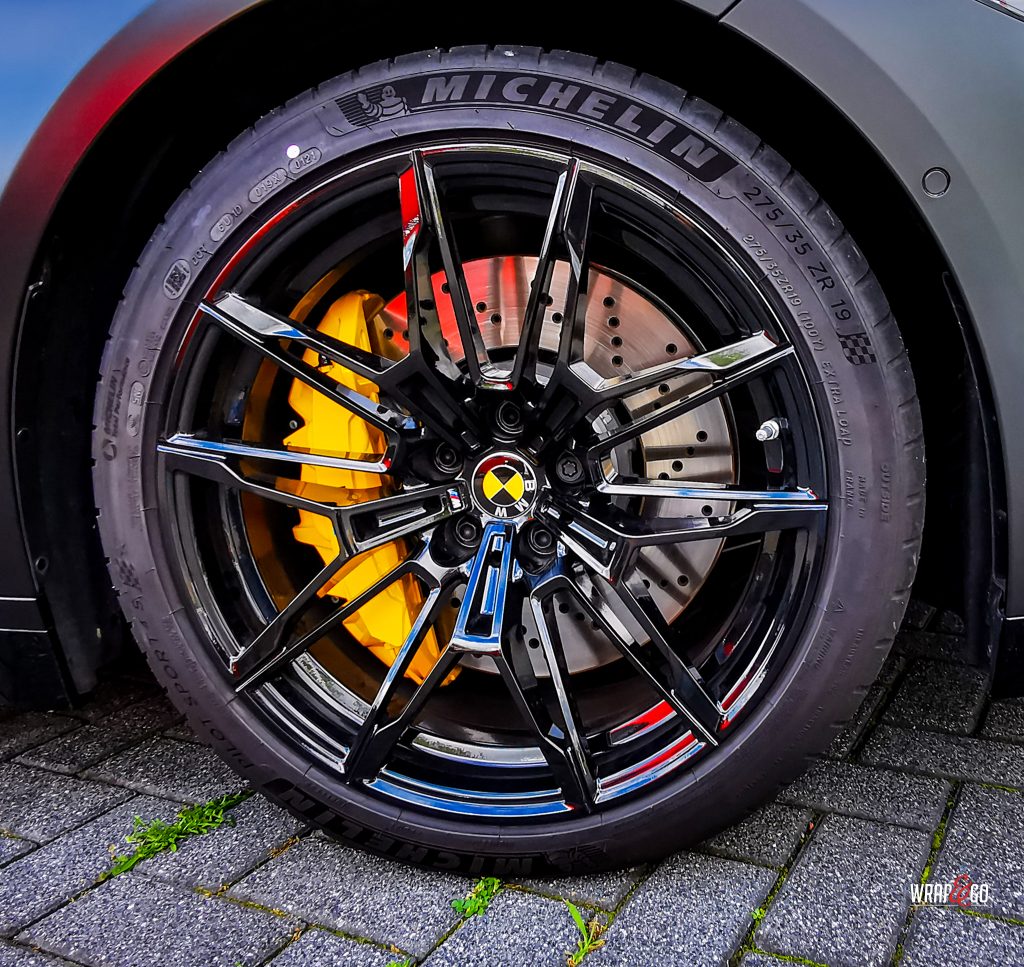 Do you spray or paint the calipers?
With us, we choose to spray calipers instead of painting, and this is for good reasons. This is because spraying calipers produces a nicer result.
By using professional spraying equipment and heat-resistant caliper paint, we can achieve an even and durable finish that not only looks great, but also withstands the high temperatures and wear and tear that calipers can experience while driving.
Whether you choose a striking colour to give your car a personal touch or a subtle shade to improve the overall look, our spray painting process ensures a professional result that lasts. So, if you want to transform your calipers and achieve an enhanced aesthetic, spray painting is the best choice for a stunning end result."
Spraying calipers is a precision job that benefits both the look and protection of your calipers. Depending on your preference and the condition of your calipers, we offer two different methods. Below is an overview of the costs for both methods:
Spraying on the car:

Choosing this method means that the calipers are sprayed directly on the car without disassembly. We accurately tape everything around the calipers and then spray the calipers. This is a quick tight method that is less labour-intensive than disassembly.
Price: €395,
1-year warranty



Dismantling and then spraying:

For the best factory-like result, we recommend disassembling the calipers, sandblasting them so they are completely bare of dirt and oil and then spraying them. Which results in a more durable and superior result.
Price: €995.
3-year warranty
For specific colour requirements outside our standard range, an additional charge of €55,- charged. If you also want logos on the calipers, the cost is €50,-
Regardless of the method chosen, you can count on a professional result and the quality you have come to expect from us.
How do you spray the calipers?
At Wrap&Go, we strive for perfection in every job, and brake calliper painting is no exception. Depending on the customer's wishes and the specific needs of the car, we use two different methods for painting calipers: spray on the car or first disassemble and then paint.
Spraying on the car:
Customer benefits:

Time efficiency: Your car is ready for use again faster, so you spend less time.
Favourable price: This method costs

€395,-

and is therefore often a bit friendlier on your wallet, as it involves fewer working hours.

Customer disadvantages:

Aesthetics: There is a small chance of uneven paint coverage or slight overspray, despite our precise masking techniques.
Sustainability: Because we may not be able to reach every part of the caliper as thoroughly, the paint may wear off earlier in some areas.
Disassemble, then spray:
Customer benefits:

Superior finishing: You get an even, professional paint coverage, making your calipers look top notch.
Long service life: Because we have access to every part of the caliper, the paint stays nice and protected longer.

Customer disadvantages:

Longer waiting time: The process of disassembly, painting and reassembly takes more time, so your car will be with us a little longer.
Cost: This premium service comes with a price of

€995,-

because of labour intensity.
Do you have a specific colour in mind that is not in our standard colour palette? That is possible for an additional charge of €55.
At Wrap&Go, we strive to tailor each project to the customer's needs and expectations. Regardless of the method chosen, we make sure you are satisfied with the end result.
How long does the whole process take?
The time it takes to paint calipers depends on the method you choose. While we ensure a high-quality finish, we also offer an efficient service so you can enjoy your car again as soon as possible.
Spraying on the car: This is a faster method. When you deliver your car to us in the morning, it will be ready to be picked up the next morning. So this process takes about one day.

Dismantling and then spraying: This approach takes a bit more time. Disassembling, preparing, painting and then reassembling the calipers takes 3 to 4 days on average.
We realise that your car is an important part of your daily routine. That is why we offer a loaner car during the process, so you can continue with your daily activities as usual. That way, we try to keep inconvenience to a minimum and you can rest assured that your calipers are in good hands.
What are the benefits of spray painting calipers?
Benefits of caliper painting
Spraying calipers is more than just a visual refurbishment for your car. While it offers undeniable aesthetic benefits, there are also several functional benefits associated with this service. Below, we list the main benefits of having your calipers painted:
Enhanced aesthetics:

Personal Touch: It allows you to personalise your vehicle and set it apart from others.
Fresh look: Older cars get an updated, more modern look when the calipers look fresh and new.



Corrosion protection:

Long-term Protection: A high-quality paint provides a protective layer that helps prevent rust and corrosion, extending the life of calipers.
Resistance to Extreme Conditions: The paint protects the calipers from salt, water and other harmful substances you encounter on the road.



Preserving Resale Value:

Eye for detail: Potential buyers often notice the care and attention an owner has given to their car. Painted calipers can add to the overall impression of maintenance and care.
Visual appeal: A car with neatly painted calipers can be more attractive to buyers, which can contribute to a better resale value.
Spraying calipers requires precision and craftsmanship. As indicated earlier, we offer two methods, depending on your preference and the condition of the calipers: spraying directly on the car or disassembling them first. Here is an explanation of both processes:
1. Spray on the car:
Preparation:

Inspection: The current condition of the calipers is assessed, identifying any damage or rust spots.
Cleaning: The calipers are carefully cleaned to remove dirt, grease and other accumulations.
Masking: Everything around the calipers such as brake discs and brake lines are carefully taped for protection.

Spraying:

Special, heat-resistant paint is used to spray the calipers evenly.
Applying logos: As an additional option, logos can be applied to the calipers.
Application of Clear Varnish: For a high-gloss finish and to protect both the paint and the logos, we apply a coat of clearcoat.



Finish:

The masking material is carefully removed and the car is made ready for delivery.
2. Disassemble and then spray:
Dismantling:

Calipers are expertly disassembled.



Preparation:

Inspection & Cleaning: After disassembly, the calipers undergo a thorough inspection and cleaning.
Blasting: To ensure optimal paint adhesion, the calipers are blast cleaned. This process removes all imperfections and ensures a perfect surface for painting.



Spraying:

The calipers get several coats of heat-resistant paint.
Applying logos: For a personal touch, own or original logos can be added on request.
Application of Clear Varnish: A protective coat of clearcoat is applied for a durable finish with extra shine.



Assembly:

The painted calipers are carefully assembled, followed by a final check to ensure safety.
Whether you choose direct spraying or disassembly, the result is a beautiful and durable finish.
Repainting calipers is an investment in both the appearance and protection of an essential part of your car. We understand that you want to be assured of quality and durability. Therefore, depending on the method chosen, we offer different warranty periods.
Spraying on the car: When choosing this direct method, we offer a guarantee of 1 year. This means that should anything go wrong within this period that is related to the quality of our paintwork, we will correct it at no extra cost.

Dismantling and then spraying: The process of dismantling, blasting and then painting is more extensive and provides a more thorough treatment of the calipers. We therefore offer an extended warranty on this method of 3 years. This reflects our confidence in the durability and quality of this process. Should any problems related to our work unexpectedly arise within this period, we are ready to rectify it at no cost.
We take pride in our workmanship and always strive to satisfy our customers. Our guarantee is a confirmation of our confidence in the quality of our work and our commitment to you, the customer.
What is the best way to maintain the calipers?
Your calipers have just been given a fresh look and now, of course, you want them to stay looking bright and new for as long as possible. Proper care is essential for this. Here are some tips to keep your calipers looking their best:
Application of ceramic coating:

The very best way to protect your freshly painted calipers is by applying a ceramic coating. This coating forms a hard protective layer that protects the calipers from most harmful elements.



Benefits of ceramic coating:

Easy Cleaning: The coating prevents dirt and brake dust from adhering easily. This makes your calipers clean again in no time.
Long-term Protection: Once applied, the ceramic coating provides long-term protection against wear, corrosion and contamination.



Regular cleaning:

Even with a ceramic coating, it is advisable to clean the calipers regularly. To do this, use a soft brush or cloth and a mild detergent. Avoid harsh chemicals that can damage the coating or paint.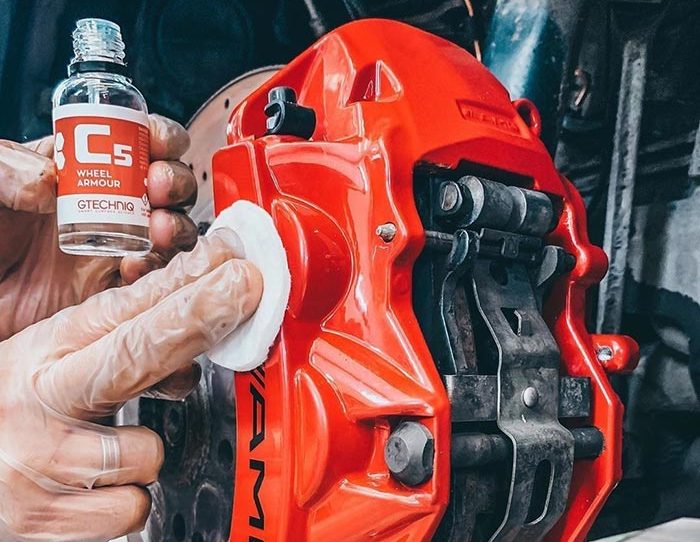 Cost of ceramic coating:
- 2 pieces 75,-
- 4 pieces 150,-
Spraying calipers is a speciality that requires knowledge, experience and a steady hand. At Wrap&Go, we combine these elements with top-quality materials and a passion for perfection. Here are some reasons why you should choose Wrap&Go for this job:
Craftsmanship & Experience:
Our team consists of professionals with years of experience in the field. This expertise ensures flawless results, time after time.

High-quality materials:
We use only the best materials and products for painting calipers. This guarantees not only a beautiful appearance, but also long-term protection.

Personal approach:
At Wrap&Go, we believe in a personal approach. We listen to your wishes, give advice where necessary and ensure that the end result perfectly matches your expectations.

Excellent Warranty:
Our quality is underlined by our warranty conditions. Depending on the chosen spraying method, we offer up to 3 years of warranty.

Flexible Options:
Whether you choose spraying on the car or dismantling, we offer flexible options to suit your needs and budget.

Customer satisfaction:
Our customers are at the heart of everything we do. The positive feedback and recommendations we receive time and again are testament to our commitment and the quality of our work.

Innovation & Technology:
We keep abreast of the latest technologies and innovations in the industry to provide our customers with the best service and results.
Choosing Wrap&Go means choosing quality, professionalism and a service focused on your satisfaction. Let your calipers shine with the expertise of our team!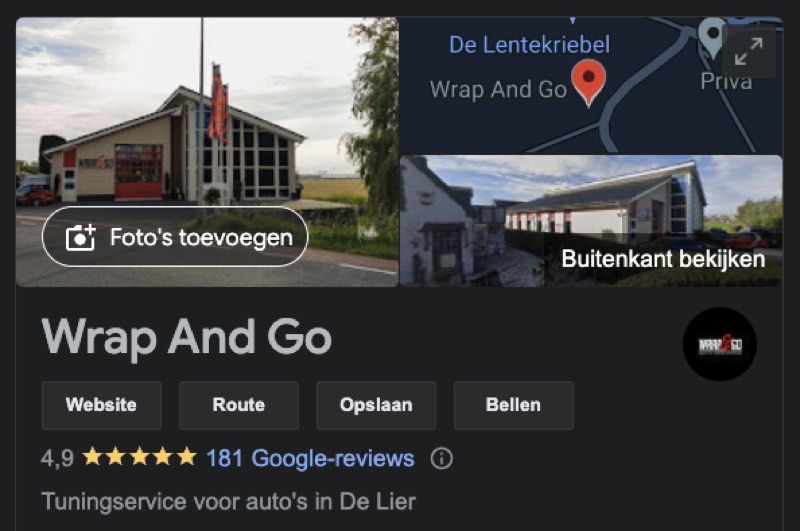 Personalise your calipers by hydro-dipping
Looking for a way to really make your calipers stand out? Then we can hydro-dip them for you. By choosing your ideal base colour first, you have all the control over the final look of the print. For example, a cool shade of grey with carbon or a gold colour with snake print as in the picture.
Hydro-dipping not only makes a statement, but also shows that you go for nothing less than the best. With all colours and prints possible, give your calipers the badass look they deserve.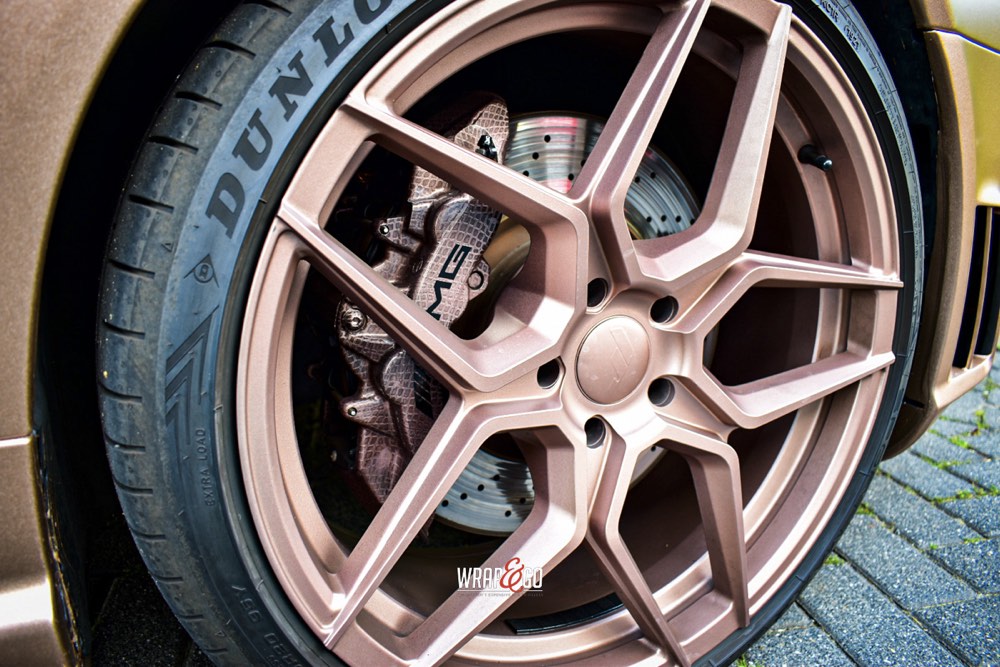 Frequently asked questions caliper painting
Is there a warranty on painting calipers?
Yes we offer 1-year warranty if we paint the calipers on the car. And we give 3 years warranty if we disassemble the calipers and then spray them. This is because the pretreatment is better when disassembling than spraying on the car.
Is the paint used heat-resistant?
Yes, the paint we use is specially designed to withstand the high temperatures calipers can reach during braking.
Does painting calipers affect braking performance?
No, painting calipers does not affect braking performance.
What is the difference between caliper paint and regular paint?
Caliper paint is heat-resistant and specially designed for use on calipers, while ordinary paint cannot withstand the high temperatures calipers can reach.
What does caliper painting cost?
Brake calipers paint cost 395.- for 4 pieces. For 2 pieces. This is on the basis that we paint the calipers on the car. We then tape the calipers all the way down, sand them, degrease them and then spray the calipers.

Another way is to dismantle the calipers, sandblast them and then spray them. The advantage of this method is that we can work much more accurately, and the adhesion is much better. You also get a 3-year warranty instead of a 1-year warranty. Costs are +/- 995,-
What colours can I have the calipers painted?
We can paint the calipers in any colour you want. Standard colours included in the price are red, yellow, purple, silver, blue, white and black. For an extra charge, we can paint the callipers in any colour you want.