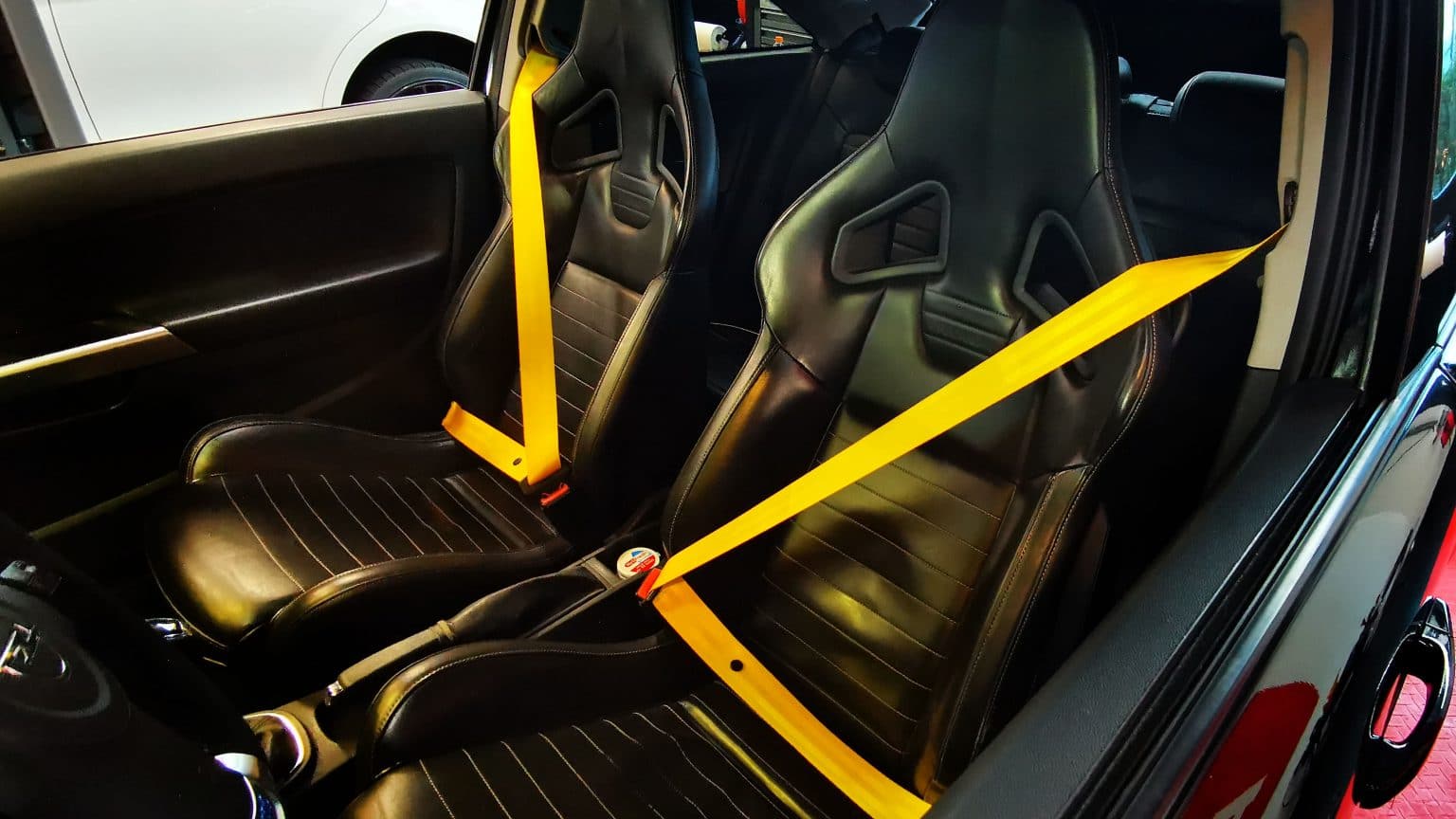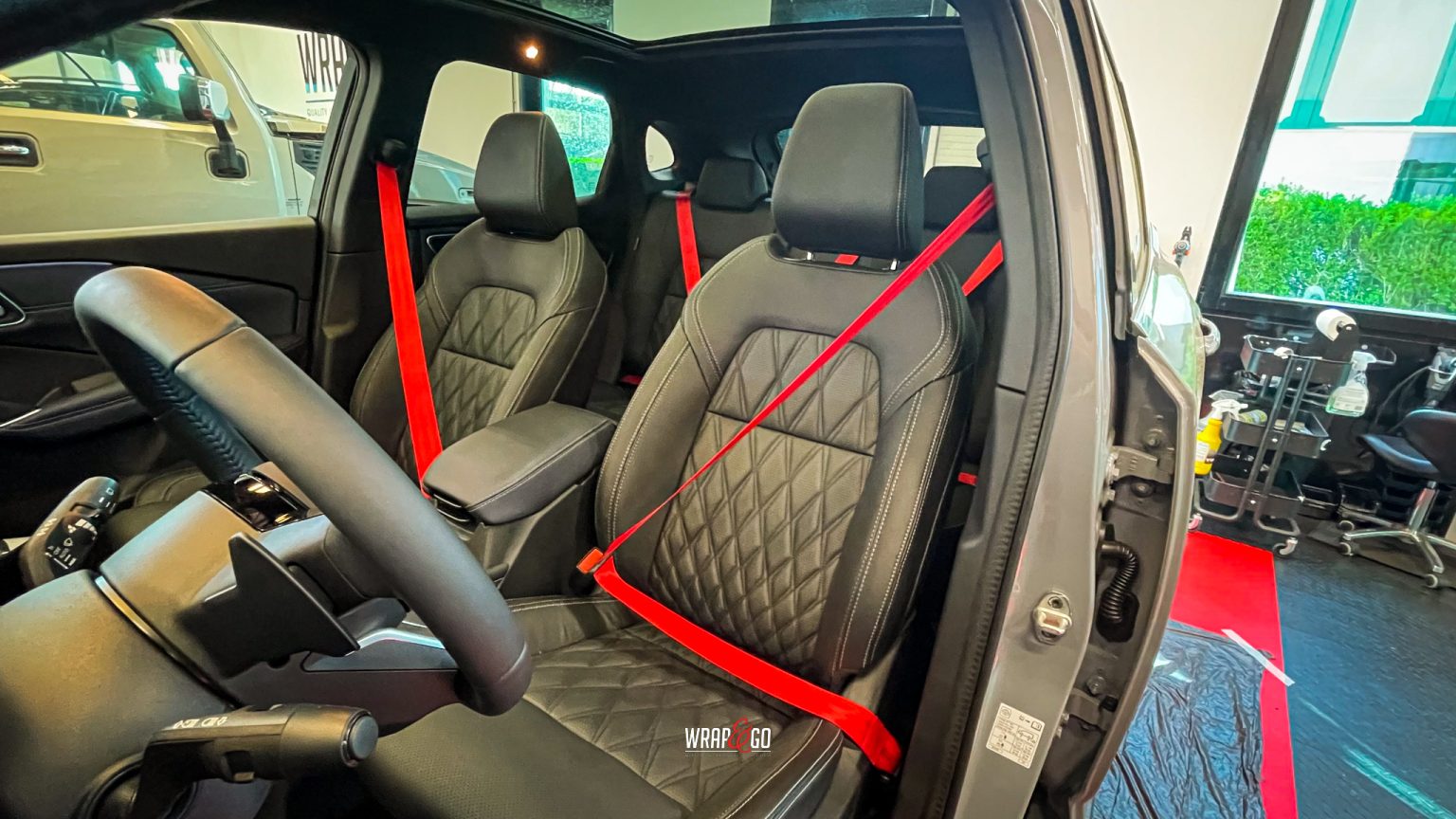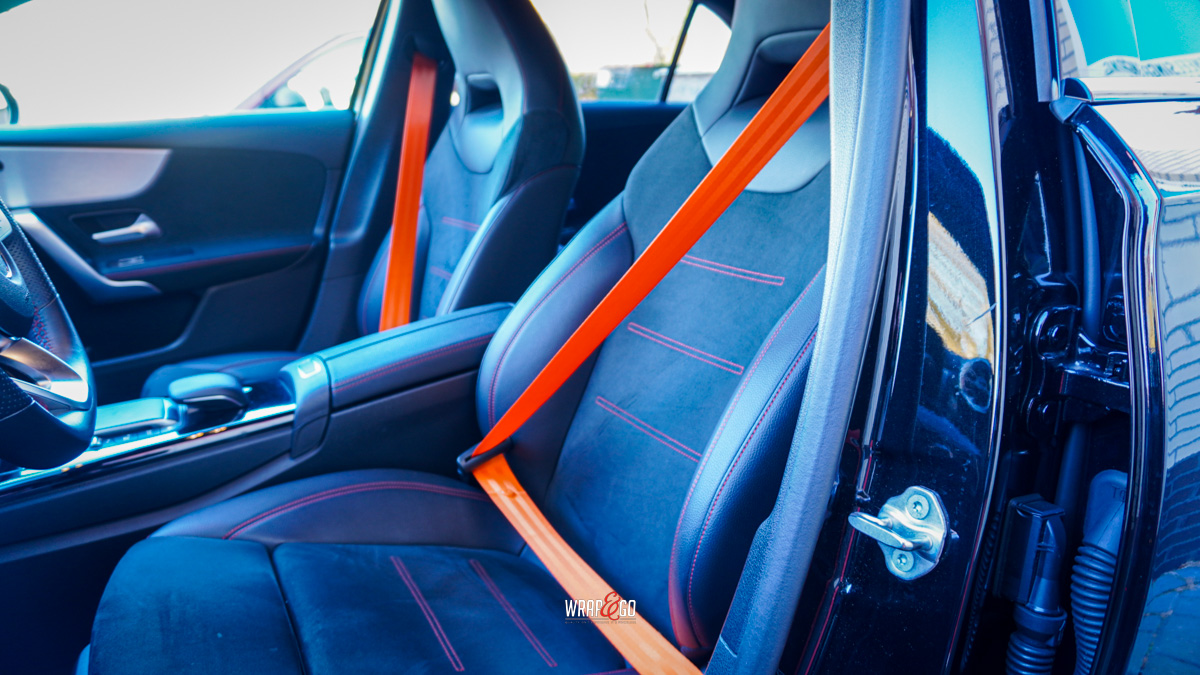 Can my belts be repaired?
Be sure! Car belts are crucial safety components and it is essential that they are always in optimal condition. If your belts show signs of wear or damage, repair can often be an effective and cost-efficient solution.
Why get your seatbelts fixed?
Cost savings: Repair can be cheaper than complete replacement in many cases.
Environmentally friendly: By choosing repair instead of replacement, you contribute to reducing waste.
Preserving originality: For enthusiasts of classic or rare cars, keeping the original belts can be important.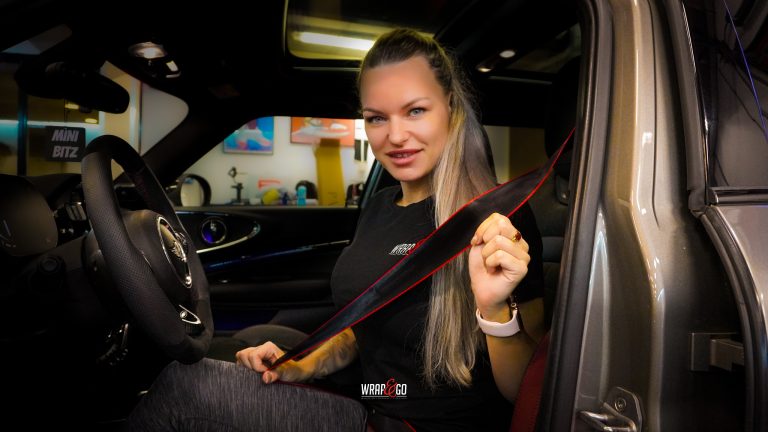 What is the cost of replacing my seatbelts?
Every car is different and so is the time it takes to dismantle and fit the seat belts. This is a very precise job and, of course, no mistakes can be made, which takes time and perfection. They must work safely again at all times.
- Cost per belt €95,- /  €150,- *
- Rear seat centre belt €150,-
Any colour or pattern is included. 
If you deliver a loose belt tensioner, then replacing the belt will cost €75,-
* Depending on the (de)-assembly duration.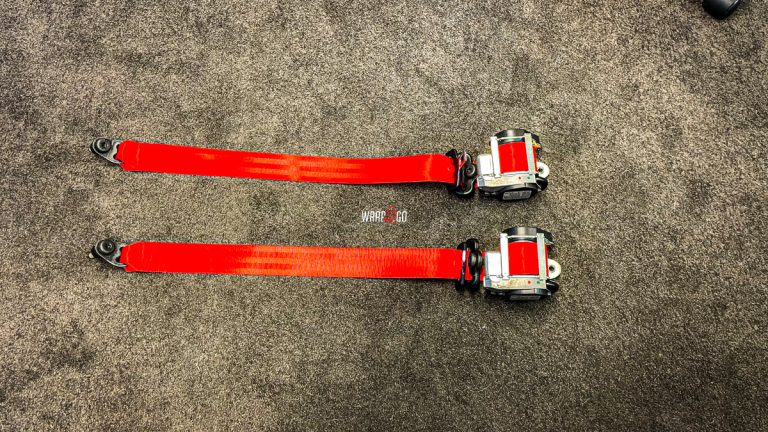 What colours of seatbelts are there?
Tired of the standard colour of your safety belts? Or has a seatbelt been damaged, causing it to be rejected for the MOT? Then your Have seat belts replaced by Wrap&Go for you! With these coloured seatbelts you can easily change the look of your car. We have more than 25 different colours and/or patterns to choose from. Would you rather see the colours in real life? Please visit our showroom.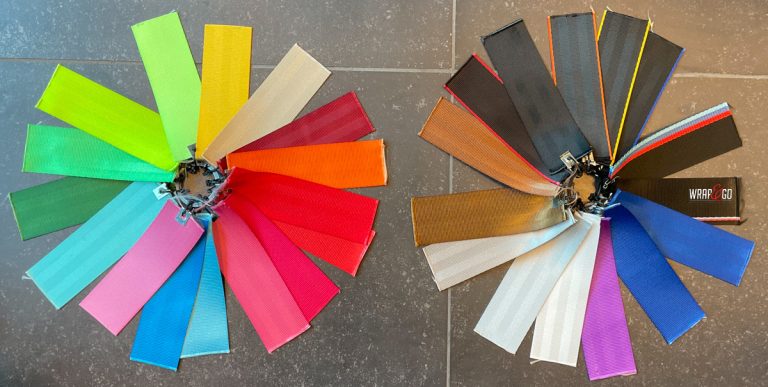 Match the coloured seatbelts with your interior or exterior
Just as you would do with your clothes and shoes, it's a cool idea to match your new seat belts with other parts of the car. If you have yellow brake callipers, yellow seatbelts go very well with them. White wheel rim protection with white seat belts, or match the stitching in the upholstery with your seat belts. 
The options are endless! Our specialists will be happy to advise you without obligation. Feel free to contact with us.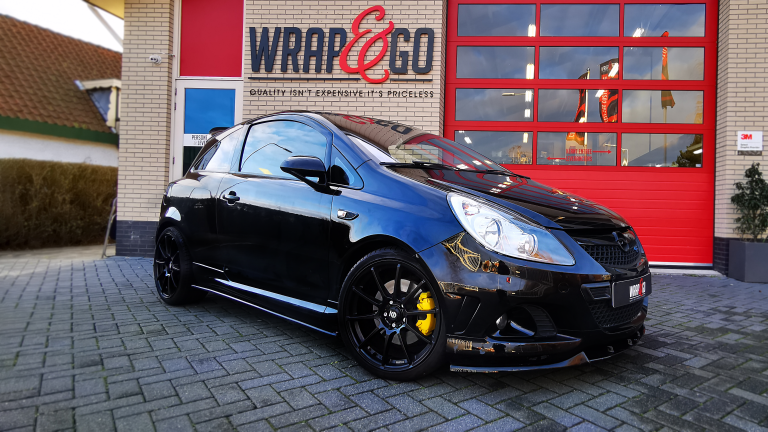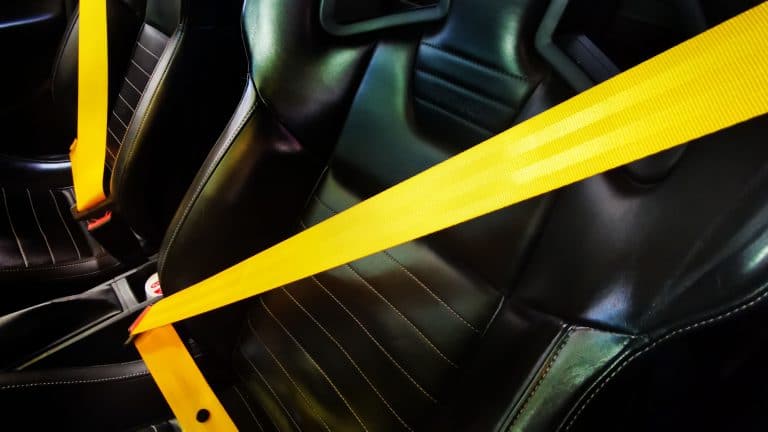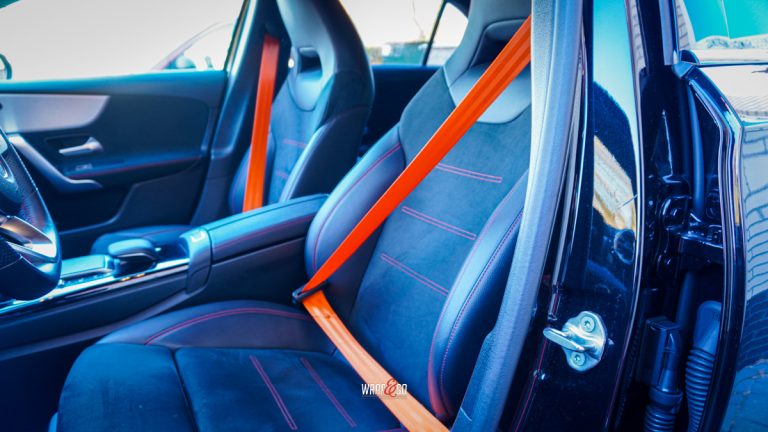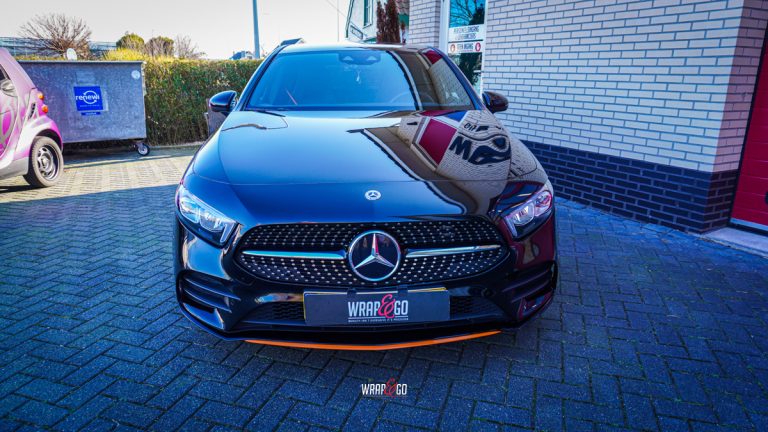 24-HOUR BELT SERVICE FOR COMPANIES
Car dealers who need to replace belts for customers, for example due to MOT failure, can count on our fast and efficient service. Send the belt to us and we will get straight to work upon arrival. Belt belt replacement is routine for us and we will make sure you are not without it longer than necessary.
What you can expect from us:
Speed: Upon arrival, we will immediately start working on your belt and make sure it is returned the same day.
Quality: We use only high-quality belt straps that meet all safety requirements.
Expertise: Our team has years of experience in replacing seat belt belts for all kinds of car makes and models.
Service: Do you have any questions or special requests? Our customer service team is ready to assist and advise you.
Rely on us for fast and flawless service, so your customers can get back on the road safely and in compliance with regulations.
The belts can be sent to our address. Please clearly state company details and phone number.

WrapAndGo
Hoogweg 2c
2678KV De Lier

How long does it take to replace a belt strap?
Replacing seatbelts is a precise process where safety is paramount. The time taken for replacement can vary depending on several factors:
Type and make of car: Some cars have more complex belt systems that take more time to replace.
Number of belts: Replacing all belts in the car may take longer than replacing only one belt.
Specific situations: In some cases, additional adjustments or work may be required, which may affect the duration.
On average, replacing a single seatbelt takes between 30 minutes to 2 hours. However, for an exact time estimate for your specific situation, we recommend you contact us. Our experienced team can give a more accurate idea of the time required after a brief evaluation.
With us, you can rely on the job being done efficiently and with the utmost care, so you can get back on the road quickly and safely.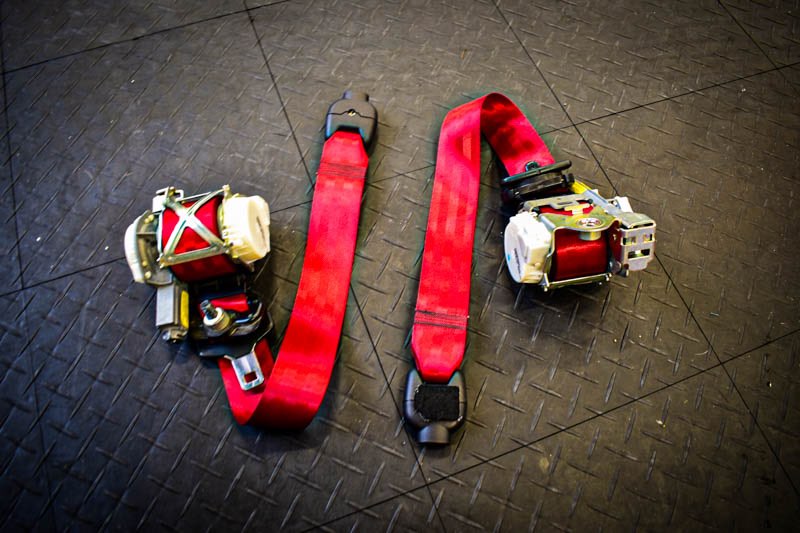 Do you offer warranty on seatbelt replacement or repair?
Yes, we fully stand behind the quality of our work and the materials we use. Therefore, we offer a warranty of [X months/year] on all seatbelt replacements and repairs. Should you experience any problems with a seat belt replaced or repaired by us within this period, please contact us immediately and we will solve the problem for you free of charge. Our goal is to make sure you can hit the road with complete peace of mind.
What are the signs that a seat belt needs replacing?
It is essential that seat belts are in optimal condition for your safety. Signs that a seat belt may need replacing include:
Visible wear such as fraying or thin spots in the belt strap.
Problems with fastening or unfastening the belt.
A belt that does not roll up smoothly or is just too loose.
Discolouration of the belt strap, which may indicate UV damage.
If the belt does not tighten during a sudden stop or tug on the belt.
If you notice any of these signs, it is advisable to have the belt inspected by a specialist as soon as possible. It is better to be safe and make sure the belt is working properly, especially in emergency situations.
Can I replace my seatbelts myself?
You may be considering changing your seatbelts yourself. While this is technically possible, I really advise against doing so. Here are the reasons why:
Your safety comes first: Your seat belt is one of the most crucial safety devices in your car. If it is not installed properly, it may not work properly during an accident, which is dangerous.

It's more complicated than you think: Many modern cars have advanced seatbelt pretensioners and sensors. Without proper knowledge, it is challenging to install them correctly.

You need special tools: To replace belts, you need certain tools that you may not have at home.

What about the guarantee?: By replacing the belt yourself, you risk voiding the warranty. And if something goes wrong due to incorrect installation, you could be held responsible.
I understand that you may want to save some money, but for your own safety and peace of mind, it really is best to leave this job to professionals. We have the right tools and expertise to ensure your belts are installed properly and safely."
What our customers say about us
The power of customer reviews
At Wrap&Go, we cherish our customer reviews and are proud to say that our customers speak for us. We appreciate the trust our customers place in us and love to hear how satisfied they are with our services. Our customers are happy to share their experiences and the results of their wrapped vehicles.
Real stories from satisfied customers
We believe customer reviews are a powerful way to get an idea of what to expect when you choose Wrap&Go. Our customers talk about the quality of our craftsmanship, attention to detail and the fact that we always strive for perfection. Their words speak louder than ours, and we encourage you to read their stories to get a better idea of what we have to offer.
Our promise to you
Customer satisfaction is our top priority, and we strive to make sure every customer walks out the door happy and satisfied. So, if you want to know how our customers perceived their experience with Wrap&Go, feel free to take a look at our reviews. Their honest feedback is invaluable to us.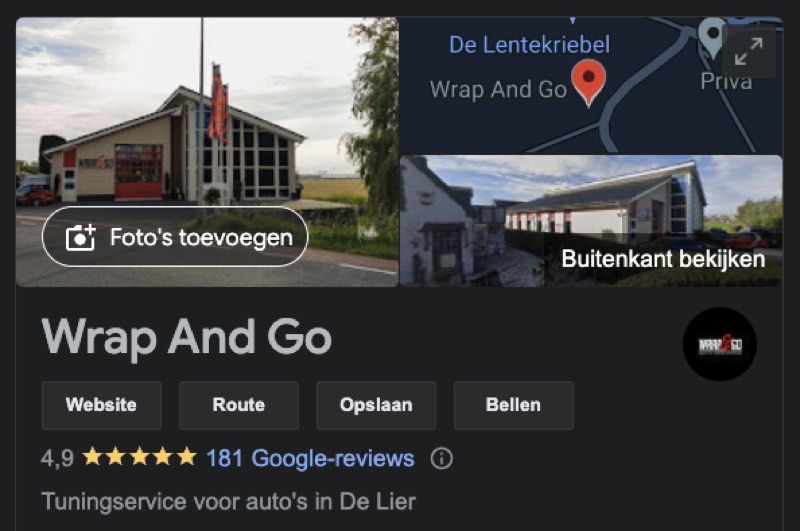 FREQUENTLY ASKED QUESTIONS
My belt is fraying at the edges, is this still safe?
Frayed or worn edges can reduce the strength and function of the belt. We recommend getting a fraying belt replaced as soon as possible.
My seat belt is stuck, can you fix it?
You have a problem with a stuck seatbelt? That sounds annoying! Unfortunately, we cannot repair this particular problem. Our speciality lies in replacing seatbelt straps. If your belt is stuck, chances are that the problem lies with the tensioner, and it would need to be replaced.
Are there legal requirements that seat belts must meet when replaced?
Yes, replacement seatbelts must comply with European safety standards. We guarantee that all our replacement belts meet these standards.