SPRAY CALIPERS IN ANY COLOUR!
You see it more and more often, painted calipers, the finishing touch for your car. Shoes make the man, nice calipers make the car! 
The possibilities are endless: choose from a wide range of colours, add logos or consider a unique hydrodip finish.
As a finishing touch? Protect your calipers with a durable ceramic coating.
CALIPERS CAN BE PAINTED IN 2 DIFFERENT WAYS
There are two ways to paint your calipers. One is slightly better than the other. The difference is mainly in the details and the guarantee we can give.
Option 1:

Spray the calipers while they are still mounted.
Costs: €98,75 each. 4 pieces €395
Work duration: 26 hours (if no logos need to be applied, the car can be collected the same day)
Warranty of 1 year
Here, we tape the calipers off completely. First, we spray the callipers with a 2-component (2K) primer, after which the callipers are also sprayed in a 2K paint of your choice. 
Should there be any logos on the callipers, we will of course replace them and finish them with a 2K clear lacquer. Naturally, these are heat-resistant lacquers.
Option 2:

Dismantle the calipers, sandblast them and then paint them.
Costs: €248,75 each. 4 pieces €995
Duration of work: 3 to 4 days
Warranty 3 years
First, we disassemble the calipers and then carefully sandblast the calipers and clamps, so they look like new again. All the dirt and oils that have attached themselves to the calipers over time are completely removed this way. 
Next, it is time to spray the calipers in any desired colour in the spray booth. Here, too, we can replace the original logos before finishing them off with clear varnish. Naturally, we also work with strong 2K heat-resistant lacquers.
After the calipers have been sprayed, we will carefully reassemble and reassemble everything after which we will bleed the entire brake system.
DISMANTLING AND PAINTING CALIPERS
EXTRA PROTECTION FOR YOUR BRAKE CALIPERS
Now that your calipers are nicely painted, of course you want to keep it that way. To achieve that, we recommend applying a layer of ceramic coating. This is transparent ceramic coating that protects the calipers from road grime and also makes it less adherent, making them easier to clean. 
Cost of ceramic coating:
- 2 pieces 70,-
- 4 pieces 140,-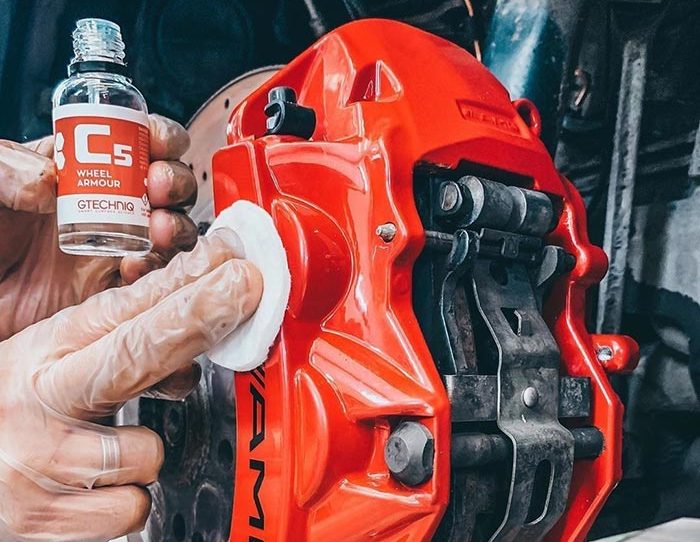 CUSTOMISE YOUR CALIPERS BY HYDRO-DIPPING
Looking for a way to really make your calipers stand out? Then we can hydro-dip them for you. By choosing your ideal base colour first, you have all the control over the final look of the print. For example, a cool shade of grey with carbon or a gold colour with snake print as in the picture.
Hydro-dipping not only makes a statement, but also shows that you go for nothing less than the best. With all colours and prints possible, give your calipers the badass look they deserve.