Wrapped in 3M Matte Black
Front and rear emblems wrapped in yellow
Brake calipers painted yellow with black Tesla lettering under clearcoat
Find more info on car wrapping here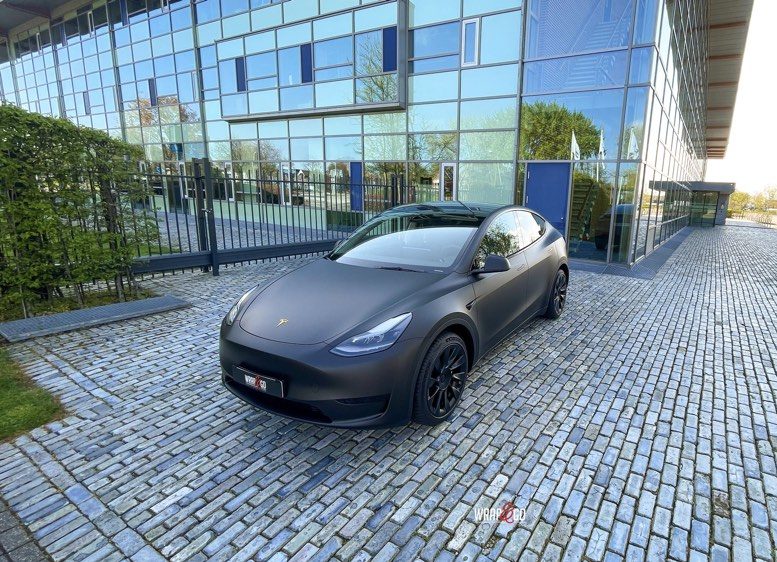 Sleek and Stylish: The Tesla Model Y in 3M Matte Black
At Wrap&Go, we have a passion for cars and for elevating their style to the next level. We recently had the opportunity to put our expertise to work on a Tesla Model Y, and the result was nothing short of stunning.
The first thing that stands out about this special Model Y is the custom-made 3M Matte Black wrap. This stylish wrap gives the car a modern and distinctive look that is unmistakable. But it is not just the look that impresses; the quality of our work is backed by a three-year warranty on the wrap. This is our promise of quality and our commitment to our customers.
But we didn't stop at the wrap. We also paid attention to the details, which makes each car unique. The Model Y's brake calipers were expertly sprayed in a vibrant yellow, contrasting with the matte black of the wrap and the car's sleek design. And for an extra personal touch, we applied Tesla letters in black under the clear coat.
And it's not just about the big things; it's also about the details. The Tesla logos at the front and rear are also wrapped in striking yellow, creating a harmonious whole with the rest of the design.
We offer a one-year guarantee on the paintwork, an added assurance that our customers receive a high-quality product that is built to last.
At Wrap&Go, we strive to transform every car we tackle into something spectacular. This Tesla Model Y in 3M Matte Black is a perfect example of that - a combination of our technical skills, eye for detail, and passion for cars. The result is a car that not only makes its owner happy, but also puts a smile on our faces every time we look at it.